Plot
In the

Teachers' Lounge

, Professor Duncan tells Jeff about his romantic interest in Britta and pleads with him for help in trying to score with her. Somewhat touched by Duncan's desperation, Jeff advises he find a lame cause to feign interest in so he can get her attention. Later in the study room, Duncan signals Jeff after the Save Greendale Committee meeting adjourns. Jeff asks if the group has plans for the weekend, and Duncan mentions wanting to go to the Riverside Forefront Theater because a benefit show is being held there for starving children with cleft palates, which expectedly sparks Britta's interest. However, Jeff and Duncan's plan backfires when Annie, Shirley, and Chang want to go to the event as well. The only exception is Abed, who intends to see a Kickpuncher movie festival. Things go further awry when the Committee uses peer pressure to force Jeff to attend the benefit too.



| | |
| --- | --- |
| That night, after the benefit show concludes, Shirley and Annie leave to go have dinner as Chang receives a phone call from his ex-wife. He tries to take the call in private but unknowingly makes his way onto a stage where an audience mistakes his conversation as performance art. When they start to applaud, Chang decides to continue "entertaining" them. Meanwhile at the theater bar, Duncan is chatting with Britta while Jeff is preoccupied with his cell phone. Britta is surprised to see an old acquaintance named Michael, along with a few of her old anarchist friends, amongst the event's crowd. She goes to say hello despite fears they will think less of her since she is no longer protesting. Jeff is about to leave when Michael calls for everyone's attention and toasts Britta as a true hero for her past activism. Britta then gives a short speech about truth which wins over the crowd. Her sudden popularity also manages to intrigue Jeff, who elects to stay, much to Duncan's chagrin. | |
| | |
| --- | --- |
| Back at school, Abed finishes a Kickpuncher outfit he created for the movie festival but is saddened he has no one to enjoy it with now that Troy is gone. Abed dons the costume and is about to leave school when he notices Professor Buzz Hickey is working late in his office. Abed decides to try and bond with Hickey by demonstrating to him a foam launching gadget on his costume. Abed sprays Hickey's desk with the substance, ruining pages of work he had just completed. Abed apologizes for the mess he made and attempts to leave so he can get to the festival on time. Before he can go, Buzz grabs him and handcuffs him to a filing cabinet intent on teaching him a lesson. Back at the theater, Chang runs out of the building terrified. He is convinced he just had a super natural encounter with either an old janitor or an audience who died years ago in a fire. | |
| | |
| --- | --- |
| At the same time, Britta tries to inspire her activist friends to take up their old anarchist ways. She ends up feeling humiliated when they refuse and Janet points out how less successful she is compared to them. Duncan then makes his move and goes over to comfort her, offering her a handkerchief as well as a hug. Jeff watches as the last two seconds of his self-imposed one-hour time limit run out. Over at Greendale, Abed compliments Buzz on his cartoons and apologizes for his actions. He then asks it be let go but Hickey still refuses to unshackle him. Abed then angrily takes back his earlier praise and bashes the cartoons as unimaginative and joyless. After a heated argument, Buzz finally lets Abed go. Meanwhile, Duncan and Britta are in his car driving away from the benefit. He is caught off guard when she absently asks him if he has friends. | |
| | |
| --- | --- |
| She mentions how throughout her life she has defined herself by her friends and now she feels worthless because of what her old anarchist buddies said about her. Duncan has a change of heart and decides not to take advantage of Britta and offers to drive her home. He then regrets his act of chivalry when she mentions how in her vulnerable state she might have done something stupid had he tried to hit on her. At Greendale, Abed goes back to Hickey's office and shows him a script he had written about a police officer. He asks Buzz to look it over as it lacks authenticity on the subject matter, which the professor would be able to provide. Before they begin collaborating on the script they apologize for what they said to each other earlier. The next day the group convenes in the study room for another Save Greendale Committee meeting. | |
| | |
| --- | --- |
| Abed and Hickey walk in discussing the types of bullet calibers. Jeff and Duncan show up talking about a boys' night they had drinking booze, arguing about sports cars and trying to whittle. Britta arrives refreshed after having spent the night alone getting in touch with herself. A disheveled Chang then shows up and asks them if they believe in ghosts. Annie warns him that any of his craziness won't be tolerated if he wants to remain on the Committee. Chang swears he isn't crazy and that he's just trying to process some weird encounters he had at the theater. The group is unaware he had gone to the benefit with them, which causes Chang to start questioning his own existence. Britta suggests he do what she did and go home, light some candies, and take a bath. As they all continue to converse, a framed picture of Chang with the Old Timey Photo Club is shown. | |
Duncan asks Dean Pelton about a Tex-Mex place he once suggested for lunch. The Dean tells him it's called "Salsa Von Tacos" and assumes he is being invited to come. Pelton is embarrassed when his assumption is corrected, leading to an awkward exchange between them. The two have a few emotional outbursts and unexpectedly bond after sharing some personal secrets. After they hug it out, Duncan swears he won't go to the restaurant, which pleases Pelton.
Recurring themes
And we're back: Community returns after a three week hiatus due to NBC's broadcast of the 2014 Winter Olympics. This break had been commented on in a Community commercial for Season Five.
Returning faculty: Professor Ian Duncan returns in this episode along with Buzz Hickey.
This must be the place: Group Study Room F, the Teachers' Lounge, Dean Pelton's office, Hickey's office, and a theater are all seen in this episode.
That just happened: After completing his Kickpuncher costume, Abed sadly contemplates the study table chair previously used by Troy, who is now sailing around the world with LeVar Burton after "Geothermal Escapism."
Previously:
Googly eyes: Duncan tries to romance Britta with Jeff's help. Jeff himself experiences some renewed interest in Britta after she is shown to be popular amongst a group of activists.
Awww!: Britta, Annie, Shirley, and Chang coo when Duncan mentions wanting to go to a benefit for starving cleft palate children.
IMDb: Jeff mentions the movie E.T. changed his perception of peanut butter filled candies.
Product placement:
Shout out:

Dane Cook and several of his romantic comedies are referenced by Duncan when he compares Jeff to the characters the actor/comedian portrays in those films.
Duncan refers to himself as the type of character Jason Biggs plays in those romantic comedies.
Britta mentions political activist, graffiti artist, and director known only as "Banksy" when describing her old days with anarchist groups.
Parody:

Chang's experience with apparent ghosts and finally finding out he's a ghost is a reference to The Sixth Sense.
The close-up group photo at the conclusion of the episode parodies the ending of Stanley Kubrick's The Shining.

Against the wall:

Annie taking note of how little she and Shirley did in comparison to the rest of the Save Greendale Committee is a reference to the small amount of screen time they have in the episode. Annie also mentions that they've had enough focus lately to which Shirley grumbles in response "Speak for yourself." This is a reference to how much Annie's character has been featured in the first half of Season Five in comparison to Shirley's character.
Chang's Old Timey Photo Club photo features various behind the scenes Community crew including writer Tim Saccardo and series creator Dan Harmon.

Background check: The chalk board in the last scene hints that Troy is currently in the Bermuda Triangle. The longitude coordinates DMC -70° 23' 49.68 for that area is given as his last known location. The chalkboard reads: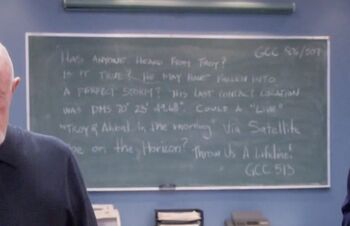 "
GCC 506/507

HAS ANYONE HEARD FROM TROY? IS IT TRUE? HE MAY HAVE FALLEN INTO A PERFECT STORM? HIS LAST CONTACT LOCATION WAS DMC -70° 23' 49.68

Could a "live" "Troy & Abed in the morning" via satellite be on the horizon? Throw us a lifeline!

GCC 513

"
Reception
Critical reaction
Ratings
"Bondage and Beta Male Sexuality" was watched by 2.56 million American viewers. It revived an 18-49 rating/share of 1.0/3. hitting season low ratings. The show ranked third in its timeslot for the night behind CBS "The Big Bang Theory" and FOX's "American Idol" placing twelfth overall for the night.
Production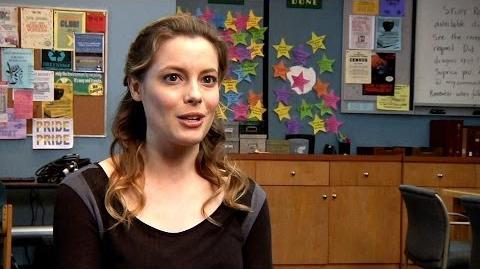 Trivia
| | |
| --- | --- |
| Dan Harmon appears in the "Old Timey Photo Club" picture shown along with Community staff including Dan Guterman and Spencer Crittenden. | |
Quotes
"Isn't she great? She's everything I love about America. Bold, opinionated, just past her peak and has started to realize that she has to settle for less. And the moment she needs a shoulder to cry on [pulls out handkerchief] BAM!"— Duncan describing Britta
"You're a bad person and a bad cartoonist!"— Abed
"You go ahead, hurt my feelings!"— Buzz Hickey
"Oh, you have feelings?! Have you considered putting them into your work? Your cartoons are monuments to joylessness; nervously assembled jokes based on nothing from your life or anyone's life! You're furious at me for being creative because you want to be able to create. You have all this rage and shame and loneliness which I don't even know how to feel much less understand and you decide to put what on paper? A duck? Jim the duck?! You think I'm crazy?! You think there's something wrong with me?! Jim the duck!"— Abed
"I just don't like being left behind!"— Dean Pelton
"MY FATHER GOT DRUNK IN PUBS AND LEFT ME IN THE ROOM WITH NOTHING!!!!"— Duncan