You know, in high school I was in a band. We could have been huge the but the world wasn't ready for an Asian man on keytar.


When Ben Chang is fired after his teaching credentials are revealed to be fake, he decides to take up his keytar again to pursue his love of music. In keeping with his self given nickname "El Tigre Chino", he has customized it with a tiger striped over the shoulder strap. Its first appearance was in the Season One episode "English as a Second Language". It makes a brief appearance in the Season Three episode "Regional Holiday Music" used by Troy. It is later featured prominently in the "The First Chang Dynasty".
| | |
| --- | --- |
| At the end of the study group's first year at Greendale, Chang makes a few startling revelations to Jeff in order to get his help. He tells him that he doesn't have a teaching degree and then reminisces about how he used to play keytar in a band when he was in high school. They are both unaware that Annie had left behind her recorder and accidentally taped his confession. When he loses his job after his secret is exposed, he blames Jeff. He uses the keytar to demolish Jeff's Lexus in retaliation. Annie later admits to Chang that she was the one who ratted him out. With Annie's encouragement, he enrolled at Greendale to get a legitimate teaching degree while also continuing to work on his keytar skills ("English as a Second Language"). | |
| | |
| --- | --- |
| Chang's keytar makes a brief reappearance in the study group's third year. Troy pretends to play the instrument while he and Abed perform the song "Baby Boomer Santa" ("Regional Holiday Music"). The keytar returns later in the year in the episode "First Chang Dynasty". Chang had kidnapped Dean Pelton and taken over Greendale with his security force and Dean replacement Faux-by. He decided to throw an extravagant birthday celebration not only to serve his megalomania but also as a way to destroy any evidence of his criminal actions for the past two months. He intended to destroy all records of his recent school activities by detonating fireworks in the school's file room. | |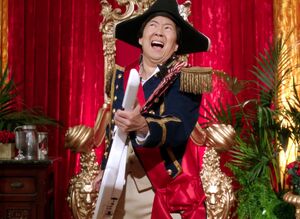 He dedicated the keytar performance to his pre-birth victory against his twin sister
Connie
. As a tribute he played the song "
Champion
" by Korean artist
Psy
. The fireworks would be activated by his keytar when he played the last note of the song. The
study group
gets wind of his plans and Abed estimates they have only nine minutes before Chang finishes his solo. Using black light Dean Pelton installed in the hallways, the study group take out the security guards to the school's records room. Troy and Abed then diffuse the bomb seconds before Chang stops playing the keytar ("
First Chang Dynasty
").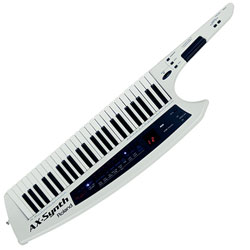 In real life, Chang's keytar is a white
Roland
AX
-SYNTH 49-Key Synthesizer
. This retails for around $1200.
Key features include:
Built-in sound engine with voices from Roland's latest synthesizers.
Ribbon controller, D Beam, modulation bar, knobs, and easy-to-see display for stage.
USB MIDI for easy connection to PC.
Dedicated V-LINK button for video/visual control.
Innovative bender mode for expressive solos.
Long battery operation (approx. 6 hours).
Community content is available under
CC-BY-SA
unless otherwise noted.