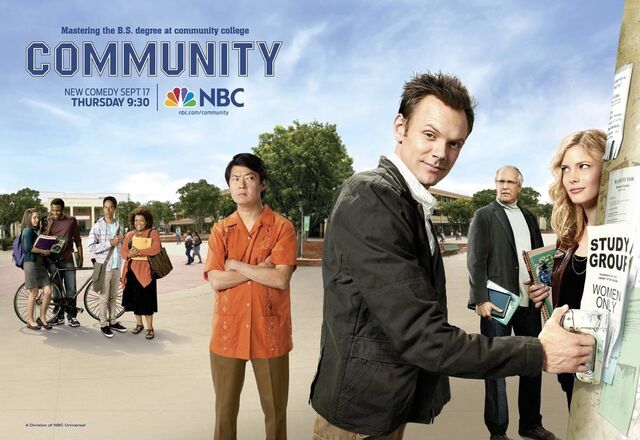 Surprisingly, my favorite new show of the season isn't a drama at all, but a comedy, albeit a dark, twisted one, especially if you stop to ponder the dismal lives of the main characters. I speak of Community, the Thursday-night NBC single-camera comedy about a diverse group of—how to put this kindly?—losers enrolled at Greendale Community College in Colorado, an institution of higher learning that reluctant student Jeff Winger —a smug, silver-tongued lawyer forced back to school when his bachelor's degree is declared invalid—refers to as a "school-shaped toilet."

| | |
| --- | --- |
| | is an American sitcom that originally aired on NBC from 2009 to 2014. It premiered on September 17, 2009 and ran for five seasons before being cancelled by the network on May 9, 2014. It was eventually picked up for a sixth season by the online streaming service Yahoo Screen. It was created by Dan Harmon and produced by Krasnoff Foster Productions and Sony Pictures Television. The series followed a disbarred attorney and his Study group attending a quirky community college. At first it was a more traditional sitcom but soon started incorporating more meta influences along with homages and parodies. Community consistently struggled in the ratings but received acclaim from critics and gained a sizable cult following, particularly online. |
Cast and characters
Edit
For more information see:
Main article: Category:Community Characters
Main article: Category:Cast
| | | |
| --- | --- | --- |
| Jeff Winger | Joel McHale | Jeff Winger, a 35-year-old snarky, glib disbarred lawyer who was looking for an easy degree. He is the de facto leader of the group which he started just to get close to Britta. He eventually became good friends with the group and now considers them to be family. He has since graduated but has promised to stay in touch with the study group. He is portrayed by actor Joel McHale. |
| | | | |
| --- | --- | --- | --- |
| Pierce Hawthorne | | Chevy Chase | Pierce Hawthorne, a 68 year-old millionaire on a late-in-life voyage of self-discovery. Pierce is considered the most offensive member of the group and has been kicked out a few times. After 13 years at that school he finally graduated. He was portrayed by actor Chevy Chase who departed the show near the end of filming Season Four. |
| | | |
| --- | --- | --- |
| Abed Nadir | Danny Pudi | Abed Nadir, a 24(?) year-old Palestinian/Polish-American pop-culture junkie who aspires to become a director and is currently taking film directing classes. He treats life and the group as if they were part of a sitcom. He is portrayed by actor Danny Pudi |
| | | |
| --- | --- | --- |
| Britta Perry | Gillian Jacobs | Britta Perry, a 33 year-old feminist who returned to school in order to get her life back on track. She is now a Psychology major and considered the "buzzkill" of the group. She has been romantically linked to both Jeff and Troy. Britta is portrayed by actress Gillian Jacobs |
| | | |
| --- | --- | --- |
| Troy Barnes | Donald Glover | Troy Barnes, a 23 year-old former high school football star quarterback who has renounced his former jock attitude and embraced his nerdy side thanks to his friendship with Abed. He is currently in Greendale's Air Conditioning Repair School. Troy is portrayed by actor, comedian, writer and rapper Donald Glover. Glover is set to have a reduced role in Season Five. |
| | | |
| --- | --- | --- |
| Shirley Bennett | Yvette Nicole Brown | Shirley Bennett, a 37 year-old mother of two and a proud Christian going to school to jump start her brownie business. She was divorced when she first enrolled but has since remarried her ex-husband. She now owns a sandwich shop in the school cafeteria with Pierce. Shirley is portrayed by actress Yvette Nicole Brown. |
| | | |
| --- | --- | --- |
| Annie Edison | Alison Brie | Annie Edison is a 22 year-old straight-laced student and former prescription drug addict. She is the youngest and most studious member of the group. She was studying to be a hospital administrator but has now changed her major to forensics. She has been romantically linked with both Troy and Jeff. Annie is portrayed by actress Alison Brie. |
| | | |
| --- | --- | --- |
| Ben Chang | Ken Jeong | Señor Ben Chang was first introduced as a Spanish professor at Greendale Community College. He lost this job when his teaching credentials were revealed to be fake and over the course of the show he became a student, a campus security guard, and a sandwich shop employee. He is portrayed by actor Ken Jeong. |
Dean Craig Pelton is the eccentric dean of greendale. He is played by Jim Rash.
The first season of the television comedy series Community originally aired from September 17, 2009 on NBC to May 20, 2010 in the United States. The first three episodes aired at 9:30 pm ET before being moved to 8:00 pm ET. The show was picked up for 22 episodes in October 2009 with an additional 3 episodes ordered by NBC bringing the total count up to 25. Before it's season finale aired it was announced on May 3rd that NBC renewed it for a second season.
Synopsis: In the study group's first year they are taking Spanish. Over the year we see the strong bonds that form between each of them. Jeff and Britta's flirtation continues. Troy and Abed's friendship start what will become an epic bromance and the beginnings of another possible romance is laid out as another one ends. As their freshmen year continues, the group take on the school bully and his minions ("Comparative Religion"), form a chicken finger mafia ("Contemporary American Poultry"), participate in the campus destroying first paintball assassination game ("Modern Warfare"). The semester concludes with The Tranny Dance where a love triangle ends with a shocking romantic cliffhanger ("Pascal's Triangle Revisited").
The second season of the television comedy series Community premiered on September 23, 2010 on NBC and aired on Thursdays at 8:00 p.m. ET as part of "Comedy Night Done Right" line up. On March 17, 2011, NBC renewed Community for a third season.
Synopsis: In the study group's second year they are taking Anthropology together. Jeff deals with the consequences of his actions at the Tranny Dance which leads repercussions for him throughout this semester. Pierce gets into an accident, breaking his legs. He grows dependent on painkillers and becomes alienated from the study group. His increasingly nasty behavior causes them to exclude him from their activities. The other members of the group secretly took a vote about whether they'd include him in the group next year, and only Annie voted to keep him in; by the end of the semester, the other group members have reconsidered and are willing to let him back in the group, but Pierce claims he's not interested in returning.
The third season of the television comedy series Community premiered on September 22, 2011 on NBC, and airs on Thursdays at 8:00 p.m. ET. NBC announced on May 10 the show was renewed for a fourth Season and Season Three concluded a week later on May 17.
Synopsis: In the study group's third year at Greendale, Jeff is in therapy, Britta has chosen her major, Annie finally moves out of Dildopolis, Troy is pressured to join a powerful secret society, Abed's grip on reality becomes tenuous, Shirley experiences a major change in her personal and professional lives, and Pierce deals with his father issues.
Season Four
Edit
Season Five
Edit
Season Six
Edit
| | |
| --- | --- |
| | Dan Harmon is the creator of Community and an executive producer and writer for the series. |
| | NBC is the American based broadcast network that is currently airing Community on Thursday nights. |
Community content is available under
CC-BY-SA
unless otherwise noted.