Plot
| | |
| --- | --- |
| A Cobra attack force led by Destro tries to destroy the Taj Mahal. Their assault is intercepted by the G.I. Joe team lead by Flint. A part of the military unit is "Tight Ship" and "Buzzkill". They question why the tourist attraction is suddenly a terrorist target and why the U.S. is defending it. Another Joe codenamed "Three Kids" is there but is busy on her cell phone talking to her children. Squad leader "Wingman" join his team and shoots down the plane Destro is piloting. Destro ejects causing Wingman to shoot holes in his parachute. Everyone but Jeff looks on in horror as Destro falls to the ground and dies. | |
| | |
| --- | --- |
| Afterwards at G.I. Joe HQ, Wingman and his squad of Buzzkill, Three Kids, and Tight Ship are facing a disciplinary committee made up of Duke, Flint, and Scarlet. The squad is charged with mature actions unbecoming of a Joe. Wingman admits to the tribunal that he killed Destro but argues it's sometimes necessary when dealing with an evil organization. He adds that if they don't start killing Cobra they might as well just kill themselves. The committee is unmoved by his speech and sends Wingman and his troops to the brig with other G.I. Joe rejects. In an adjoining cell they meet a Joe codenamed "Fourth Wall." He hints at a higher reality and suggests what they are experiencing now is merely a syndicated children's cartoon show. Fourth Wall tells them about a mission he recently undertook infiltrating a Cobra excavation operation codenamed "Greendale." | |
| | |
| --- | --- |
| As Fourth Wall continues his explanation, Wingman recognizes the codename from somewhere. Fourth Wall then presents an artifact to the squad that he found during his investigation, a miniature action figure of Duke. Wingman suddenly collapses upon seeing it and while unconscious imagines a kid's toy commercial. He wakes up to find himself still in the brig and Fourth Wall suggests he has a connection to the other reality. It's then that Wingman starts to hear through his squad voices unrelated to the G.I. Joe world calling him "Jeff." Over at Cobra Headquarters, Cobra Commander is eulogizing Destro when he interrupted by a communique. It's from Vice Cobra Assistant Commander who tells his boss about weird energy readings emanating from the Greendale site. Cobra Commander is too grief stricken to care and vows to make G.I. Joe pay for Destro's death. | |
| | |
| --- | --- |
| Back at Joe Headquarters, Wingman's squad is still in the brig when Cobra forces attack the base. An explosion blasts a hole in the wall of their prison cell, freeing them. Wingman tries to help the Joes but ends up causing the deaths of several Cobra troopers and Lifeline, the Joe's medic. They are branded traitors by Duke and Flint and forced to escape aboard the "Submachopter." Wingman pilots the vehicle until Fourth Wall mentioned Greendale. This causes him to pass out and while unconscious he has more visions. He sees another toy commercial and a brief glimpse of himself in a hospital bed surrounded by his friends. He awakens to find Fourth Wall reassuring him everything is okay and that they have set a course for "Greendale." Upon arrival, the squad easily overpowers the Cobra guards and makes their way into the excavation site. Once inside they find an old, yet strangely familiar looking school building. | |
| | |
| --- | --- |
| In Vice Cobra Assistant Commander's office, Major Dick and XimXam are discussing their health care insurance. Overkill interrupts them and informs them the base has been infiltrated. The Assistant Commander sends the three Cobra officers to deal with the intruders but they are all dispatched by Wingman quickly. The squad makes it to the study room and Wingman's memories as Jeff Winger come back. He recalls who they all are in real life including the Assistant Commander who is overjoyed to see him. Wingman excuses himself and heads to Jeff's office where he finds his driver's license. He returns to the study room and tells his squad that in reality he drank a fifth of scotch and took some youth pills he bought in Koreatown. He did this because it was his birthday and he just turned 40. | |
| | |
| --- | --- |
| Fourth Wall figures out how he can return to the real world but Wingman refuses, preferring fantasy over the reality of being a middle-aged community college teacher. They are interrupted by the arrival of the united Cobra and G.I. Joe forces of "Joebra." Wingman is taken into custody but soon freed after convincing them he wants to stay in this world. He quickly changes his mind when he learns cartoons can't indulge in adult pleasures. After a quick brawl back to the study room, he puts on his flight pack and flies to the barrier separating realities. Cobra Commander hangs onto Wingman's foot but doesn't survive the trip between worlds. Wingman awakens as Jeff in his hospital bed surrounded by his friends. He admits his true age but they tell him they suspected he was 40 already. After handing him his birthday present they have a group hug, happy to have him back. | |
| | |
| --- | --- |
| Buzzkill and Fourth Wall appear in a classic G.I. Joe public service announcement. Buzzkill attempts to lecture two teens about the graffiti they are painting but Fourth Wall criticizes her approach as too preachy. He advises that cartoons should keep any lessons they want to teach simple and direct. He then tells the boys "Graffiti is bad, go play sports." Buzzkill starts defending her methods but Fourth Wall cuts her off by reciting the catchphrase "And knowing is half the battle!" | |
Recurring themes
Continuity lists
Narrative
Recurring or debuting plot points in this episode:
Previously:
Replay: This episode has the same basic plot of "Abed's Uncontrollable Christmas," with a character refusing to accept reality by imaging himself in a cartoon world. It was also credited as being written by Dino Stamatopoulos, who wrote that Holiday episode. However, Stamatopoulos has said that the episode as aired was mainly written by Dan Harmon.
Discontinuity: This episode retcons Jeff's age. It is possible he was lying the entire time, however this revelation conflicts with information in previous episodes as well as statements Community creator Dan Harmon himself had made early in the show's production about Jeff's age. Below are several "Community" episodes which hint at Jeff's age.
"@Funkapus @SaraLinnLinn We try not to be sloppy. Try to make the characters as real as possible. Sometimes we screw up and everyone tells us."
People
Recurring or debuting characters in this episode:
Familiar faces: A number of cameos from the G.I. Joe franchise makes an appearance. These include:

Joes: Flint, Scarlet, Duke, Roadblock, Snake-Eyes, Lady Jaye.
Cobra: Destro, Cobra Commander, Zartan, Baroness, Storm Shadow.
Places
Recurring or debuting places in this episode:
Animated versions of Greendale locations are shown in this episode.
Cobra Headquarters
Hospital
Things
Recurring or debuting items in this episode:
School supplies: The fine scotch Pierce bequeathed to Jeff in "Cooperative Polygraphy" can be seen on Jeff's desk. It can be assumed that this is the fifth of scotch he drank when he downed the Korean pills.
Production
G.I. Jeff was produced by Starburns Industries, Harmon's animation studio that also created "Abed's Uncontrollable Christmas."
Behind the scenes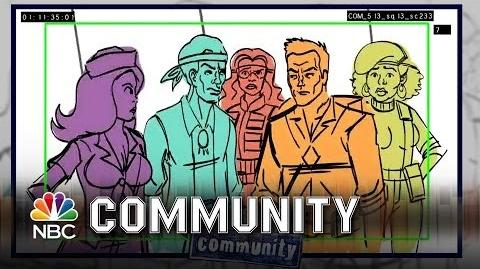 Voice cast
The cast of "Community" voiced their cartoon counterparts on the show. Community creator Dan Harmon also provided his voice for the character codenamed "Sleep Apnea." Two of the G.I. Joe cartoons original voice actors reprised their roles in this episode: Michael Bell returned as "Duke" and Bill Ratner returned as "Flint." Original G.I. Joe actress Mary McDonald-Lewis also provides a single line in the episode ("Snakes at six o'clock high!"), but the line is delivered from offscreen, and the speaking character unseen. McDonald-Lewis's character in the original Joe series was Lady Jaye, but the credits of this episode misidentify her as the voice of Scarlett.

The original voice actor of "Cobra Commander," Chris Latta, passed away in 1994 and was replaced by Rob Schrab, the director of the episode. The original voice actor of "Destro," Arthur Burghardt, was also replaced by actor Isaac C. Singleton Jr.




Joel McHale in the studio voicing "Wingman."
Production delays
| | |
| --- | --- |
| Director Rob Schrab and "Community" creator Dan Harmon are real-life friends and longtime collaborators. The production of the episode was held up for a time while Harmon finished tweaking the script. As the deadline drew nearer, a friendly Twitter feud between Schrab and Harmon began with Rob insisting that Dan complete the script. This feud culminated with Harmon getting Jon Kimmel (the G.I. Joe theme singer for this episode) to sing a parody song about Rob which was originally posted here and later put on YouTube with the video on the right (WARNING: NSFW lyrics). | |
Production art
Character designs

On April 5, 2014, animator Brent Noll published production artwork of this episode on his Tumblr. Brett also works on "Rick and Morty," Dan Harmon's Cartoon Network show.
Storyboards
Storyboards published by cmbarnes on deviantart.
Trivia
Quotes
"Cobra! Avenge my totally platonic friend!"— Cobra Commander
External links
'Community': Details on the 'G.I. Jeff' animated episode -- FIRST LOOK