Bio
| | | |
| --- | --- | --- |
| | | MC Dan Harmon is a student at Greendale community college. In his spare time he likes to rap and crochet. He performs with Vaughn Miller in his band and helped him even co-write a song. However, he shown not to be exclusive to them and is for hire other artists at the right price. His first and only appearance was the Season One episode "Home Economics". His official page on the Greendale Campus Connect web site can be found here. He is portrayed by rapper/actor Jacques Slade. |
Character history
In the study group's first year at Greendale, Vaughn Miller asked Pierce to join his band as a keyboard player. They soon had a falling out over credit given for the song "Gettin' Rid of Britta" resulting in Vaughn kicking Pierce out of the band. Later at the campus music fest called A Night under the stars, Vaughn and the rest of his band debut his latest single "Pierce You Are A B" which features a rap performed by MC Dan Harmon mocking Pierce:



"
This a song for Pierce, cause him so old, his body made of wrinkles and folds! Stupid and ugly, he smell like a fart. Then poo-poo in his pants and poo-poo in my heart!


Come Selecta bring him down, when him on a stage him dressed like a clown! The boy are Tom Arnold and we are Roseanne, that's why we divorced him straight from the band!

"

–MC Dan Harmon



In the episode end tag, Pierce and MC Dan Harmon are in the music room composing a rap which mocks Vaughn.




"
East side, west side, north side, south Vaughn's breath is so bad his butt's mad at his mouth. This rap is by Pierce, Vaughn is dumb, he wears diapers to bed and sucks his mother's thumb and when he wakes up stupid wishing he was me, he eats a big poop breakfast with a glass of pee! Then he goes to school where he's stupid again and everybody hates him even all his friends! When you come after Pierce then the battle is on, so this rap goes out to stupid Vaughn!
"

–MC Dan Harmon

Vaughn walks in on their collaboration and compliments Pierce for his response but tells him that the conflict between them isn't over.



Trivia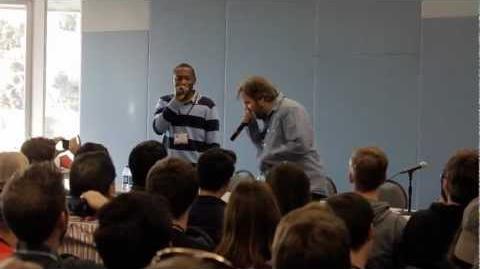 The character MC Dan Harmon is obviously named after the creator of the show, Dan Harmon. He is portrayed by rapper Jacques Slade who has composed not only the raps in the episode "Home Economics" but also the songs "Night Caps" and "I Never Die". His work on the show can be found on the Community soundtrack. At the 2013 CommuniCon, Jacques Slade and Dan Harmon performed "Pierce Raps" together.
Community content is available under
CC-BY-SA
unless otherwise noted.