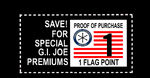 CLIP AND SAVE FOR YOUR G.I. JOE COMMAND FILES!

  Martial artist
  CODENAME: Overkill ™

NAME: Ben Chang    RANK: COBRA™ Officer
PRIMARY MILITARY SPECIALTY: Hand-to-hand combat
SECONDARY MILITARY SPECIALITY: Saboteur
FIRST APPEARANCE: "G.I. Jeff"
Ben Chang was a former Spanish teacher, college student, security guard, amnesiac and math teacher who now uses his fighting prowess in service to COBRA™!
"Ugh, Overkill!"— Buzzkill
| | | |
| --- | --- | --- |
| | | Overkill was Jeff Winger's reimagining of Ben Chang. He existed in a "G.I.JOE™" themed reality dreamt up by Jeff when he fell into a coma. Overkill had a number of different jobs before settling on international terrorism. Although he is a member of COBRA™ his only true allegiance is to himself. Overkills's first appearance was in the Season Five episode "G.I. Jeff". He is voiced by actor/comedian Ken Jeong. |
Character history
Edit
| | |
| --- | --- |
| Overkill was one of three COBRA™ special operatives who were assigned to protect the organizations secret excavation site. It was codenamed "Greendale" and the buried structure they uncovered resembled a Community College. Overkill learned the base had been infiltrated and rushed to tell the operation overseer Vice Assistant Cobra Commander. He found the Commander in his office having a discussion with Xim Xam and Major Dick. Overkill made an acrobatic entrance by flipping into the room and let them all know that Joe's had entered the base. Overkill stared blankly alongside his colleagues awaiting orders as the Commander panicked and pleaded with them to protect him. | |
| | |
| --- | --- |
| Overkill was the first to engage the enemy unaware they were actually fugitives from the Joes. He found Wingman, Buzzkill, Fourth Wall, Tight Ship and Three Kids in the school's library. Overkill taunted the intruders before activating a device on his wrist. Multiple holographic versions of Overkill surrounded Wingman and his squad. After a brief discussion, Wingman agreed with Fourth Wall that the real one was in the middle. Wingman shot Overkill in the shin and his holograms disappeared as he collapsed from the wound. Xim Xam appeared but he got shot in the shin as well. The two COBRA™ operatives limped away as Overkill complained about the pain claiming the bullet shredded his meniscus ("G.I. Jeff"). | |
"Overkill"'s overall appearance is inspired by the G.I.JOE™ character Quick Kick but his personality is perhaps more in line with the character of Storm Shadow who often switched his loyalty from COBRA™ to G.I.JOE™ in various media depicting the ninja master.
The gi worn by the Cobra Ki members in the 1984 film "The Karate Kid" was also a possible inspiration for "Overkill"'s appearance.
The codename "Overkill" is probably a reference to actor Ken Jeong's over the top comedic performances. In an interview with Coming Soon.net, Jeong mentions his overacting tendencies and overcommitments to roles.



Community content is available under
CC-BY-SA
unless otherwise noted.