Give me some rope. Tie me to dream. Give me the hope to run out of steam...

| | | |
| --- | --- | --- |
| | | Starting in the Season One episode Spanish 101, the opening credits to Community features the song "At Least It Was Here" by the 88 as well as a computer generated paper fortune teller . The fortune teller opens up and reveals the names of the cast before closing up into a paper football on a school desk that has the creator of the show Dan Harmon's name carved into it. The fortune teller is used throughout the show's run and has been altered a few times to coincide with the theme of a specific episode. |
The opening credits
Original
The original opening the cast is represented by the following: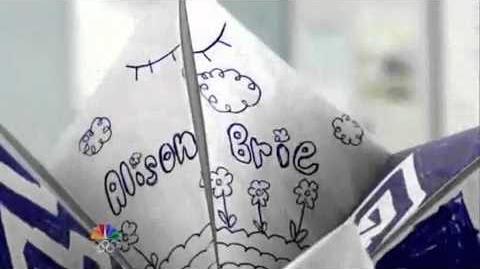 Joel McHale:
Kilroy
Gillian Jacobs: A valentine with arrows through it
Danny Pudi: Hangman
Yvette Nicole Brown: A cake with a knife in it
Alison Brie: A field of flowers
Donald Glover: Killer bees
Jim Rash: A bird flipping a car
Ken Jeong: A dragon wearing a sombrero
Chevy Chase: Lips and eyeballs
Variations
"Epidemiology": The Season Two Halloween episode has monsters representing the cast. The same intro (with an additional drawing for Jim Rash) was used for the subsequent Halloween episodes in Season Three with "Horror Fiction in Seven Spooky Steps" and in Season Four with "Paranormal Parentage".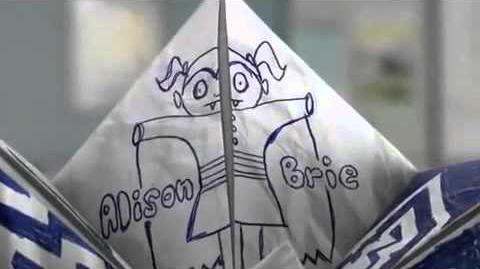 Joel McHale: Vampire
Gillian Jacobs: Zombie rising from the grave
Danny Pudi: Robot filled with bats
Yvette Nicole Brown: Mummy
Alison Brie: Female vampire
Donald Glover: Jason Voorhees
Jim Rash: Man in an electric chair
Ken Jeong: Aliens wearing sombreros
Chevy Chase: Skeleton in a coffin
Dan Harmon's name is etched into the desk looking like a spider's web.
"Advanced Dungeons and Dragons": This opening has a sword and sorcery theme reflected by the re-orchestrated music and the type of characters used to represent the cast: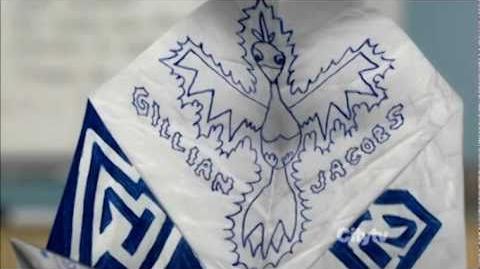 Joel McHale: Goblin with his treasure
Gillian Jacobs: Phoenix
Danny Pudi: Wizard
Yvette Nicole Brown: Sword
Alison Brie: Unicorn Pegasus
Donald Glover: Goblin with a torch
Ken Jeong: Knight with a morning star
Chevy Chase: Ogre with a club
Permanent changes
Aside from the above variations, the standard paper fortune teller changed over time, mostly to account for cast changes, and once because of censorship:
| | |
| --- | --- |
| Old order | New order |
| Joel McHale | Joel McHale |
| Gillian Jacobs | Gillian Jacobs |
| Danny Pudi | A dragon dunking a basketball on a castle wall |
| Yvette Nicole Brown | Danny Pudi |
| Alison Brie | Alison Brie |
| Donald Glover | A flamingo wearing cowboy boots |
| Jim Rash | Jim Rash |
| Ken Jeong | Two anthropomorphic bananas drinking alcohol |
| Chevy Chase | Ken Jeong |
Trivia
In "Anthropology 101", Britta is seen playing with a paper fortune teller.
In "Home Economics", Abed is also seen playing with one.
Community content is available under
CC-BY-SA
unless otherwise noted.