I can't go to Señor Kevin's, the manager and I are enemies. He said "Die Hard" was bad. He said "Die Hard" was bad.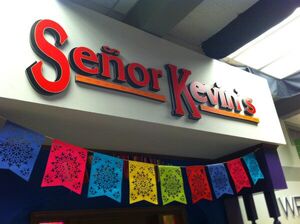 Señor Kevin's
is a Mexican themed restaurant that became a frequent locale in the
study group
's third year at
Greendale
. A sampling of the menu items includes the Siesta Salad, the Top Nach-O's, a cage-free bean burrito made with micro-financed flour, along with a wide variety of margaritas. Despite it's popularity,
Abed
doesn't like the place because of a disagreement with the manager. It first appears in the
Season Three
episode "
Studies in Modern Movement
"and it's last appearance was in "
First Chang Dynasty
".
| | |
| --- | --- |
| Señor Kevin's first appears in the study group's third year at school together after Dean Pelton blackmails Jeff into spending time with him at the mall they end up having lunch at Señor Kevin's. Jeff is forced to not only order Craig's food for him but also to get the restaurant's Mariachi band to serenade him ("Studies in Modern Movement"). It is next seen when Jeff takes Shirley to dinner after practicing all day for their upcoming Foosball match against The Germans. Although the two were initially enjoying each others company, their dinner takes a turn for the worse when Shirley accidentally reveals she bullied Jeff when they were kids ("Foosball and Nocturnal Vigilantism"). | |
| | |
| --- | --- |
| Later in the year, Annie plays matchmaker for Troy and Britta and sets the two up on a lunch date together at Señor Kevin's. Abed later presents to Annie a scenario of how the date is playing out at the restaurant. Using the power of the Dreamatorium, he role plays as Troy, Britta, and the manager of Señor Kevin's with whom he has a bitter relationship with due to the latter's dislike of "Die Hard". Abed's prediction turns out to be incorrect as Troy and Britta actually had a good time there and Troy even stood up to the manager on Abed's behalf ("Virtual Systems Analysis"). | |
| | |
| --- | --- |
| In the study group's fourth year at school, Abed is later revealed to have kept a seven layer bean dip from Señor Kevin's in his refrigerator for two years. He, along with Pierce, Annie and Troy are invited to Shirley's Thanksgiving Day dinner with her family. He brings the dip to the dinner and it's promptly thrown into the trash. After having a lousy time dealing with Shirley's relatives, they consider eating the dip in order to get sick and have a legitimate reason to leave ("Cooperative Escapism in Familial Relations"). | |
| | |
| --- | --- |
| Later on the school year, Troy and Britta reached the one year anniversary of their first date. Upon Annie and Shirley's suggestion, they decide to go to Señor Kevin's to celebrate it. Troy's anxieties about the relationship manifests itself in a role play body switch with Abed. Britta plays along and takes Abed on the date instead of Troy. Once at the restaurant, the manager of Señor Kevin's decides to taunt his nemesis Abed about how horrible the movie "Die Hard" is. Britta hoped this criticisms would force Abed to break character but he ignores the insults to his favorite film and continues to act like Troy. During the course of the meal, Britta learns through Abed that Troy intends to break up with her. | |
| | |
| --- | --- |
| It's then that the real Troy shows up having been encouraged by Jeff to own up to how he really feels. Troy and Abed, with a little help with the lights from Jeff, pretend to switch bodies again. Troy takes over the rest of the date with Britta as Abed and Jeff give them some privacy. Troy apologizes for his antics and admits to Britta that he isn't mature enough yet for a serious relationship with her. He states that he wanted to make it work and while he cares for her a lot he feels they are better off as friends. Britta silently agrees with him and reaches across the table to hold his hand ("Basic Human Anatomy"). | |
Employees
Edit