It's official. Season 5 ladies and gentlemen. Thank you, Community fans, for your relentless loyalty to the show. You made this happen. You are incredible.

| | | |
| --- | --- | --- |
| | | On May 10, 2013, NBC renewed Community for a fifth season consisting of 13 episodes. Season Four showrunners Moses Port and David Guarascio and senior writer Megan Ganz have moved onto other projects. Show creator Dan Harmon and writer Chris McKenna returned to the show as the new co-showrunners. Not long after launching their Fall schedule, it was officially announced by NBC on October 18 that the show would return the following year as a mid-season replacement. "Community" will be airing back to back episodes at its regular 8:00 PM time slot starting on January 2, 2014. Sony Pictures Television (owner of "Community") negotiated its fifth season alongside a few other Sony helmed TV pilots NBC was interested in, including a drama called "The Blacklist" and a comedy titled "Welcome To The Family". Writers Megan Ganz, Steve Basilone, and Annie Mebane will not be returning for Season 5. Chevy Chase has also departed the series. It is explained his character's absence is due to a court order preventing him from being on school grounds and later his death. Season Four showrunners Moses Port and David Guarascio, who had both signed one year deals, decided to move on to other projects. After some rumors that original showrunner Dan Harmon may be returning, it was finally made official by Harmon himself on his twitter account: |
Another return includes writer Chris McKenna who, according to Harmon, will be his co-showrunner. On May 12, 2013 NBC announced their 2013/2014 schedule and Community was absent from the fall lineup. The show is expected to remain on the bench until midseason though it could return earlier if a timeslot opens up.
On July 7, online entertainment news site Vulture reported the news that Donald Glover is to have a reduced role this season appearing in only five of the planned thirteen episodes.
On April 17, 2014, Season Five finished airing its final episode "Basic Sandwich". The following month on May 9, NBC announced its Fall lineup and chose not to renew Community officially cancelling it. Creator Dan Harmon sent out a message to the cast, crew and fans of the show on his Twitter account:


After a month of negotiations with several different entities, Sony announced on June 30, 2014 that the online streaming service Yahoo Screen had picked the series up for a sixth season.
Interviews
Edit
Th cast participated in a few interviews leading up to theI panel appearance at Comic Con.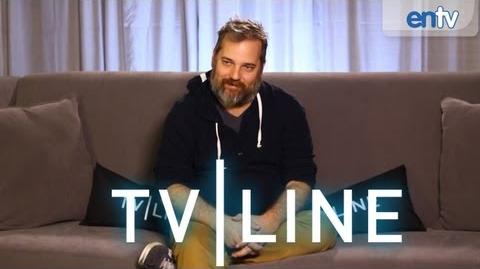 Dan Harmon had an interview with Michael Ausiello of the online entertainment news site TV Line. Harmon revealed a few things to expect from Season Five. When asked about Donald Glover's reduced role this year, Harmon stated he has a story arc planned to deal with his limited appearances. Harmon also hinted that an all animated episode was in the works along with his desire to do a "disaster" themed episode and hints of possible developments for a particular pairing.
2013 Comic Con
Edit
On July 21, 2013 Dan Harmon, Chris McKenna, Danny Pudi, Jim Rash, Gillian Jacobs, Alison Brie, and Ken Jeong all appeared at the annual San Diego Comic Con panel for Community. Dino Stamotopolous was there as well but Joel McHale and Donald Glover were absent. McHale did appear in a video package introducing the panel which was moderated by Chris Hardwick.
Production
Edit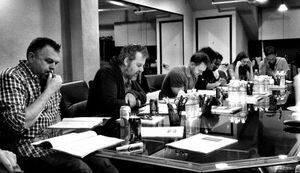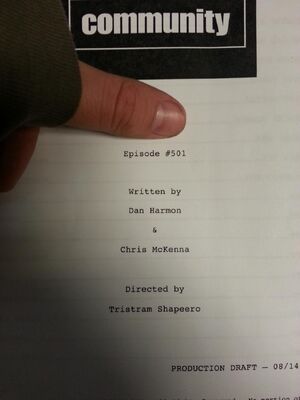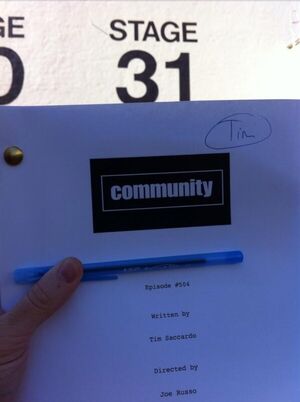 On August 14, Community writer Tim Sacardo tweeted a photo of the cast and crew doing a reading for the first episode of Season Five. On August 16 Dan Harmon tweeted the front of the script but covered up the name of the first episode. It's production code is #501 officially written by both Dan Harmon and Chris McKenna and directed by Tristram Shapeero. On November 4, the title was later revealed to be "Repilot" by actress Gillian Jacobs on a podcast interview of "Bullseye with Jesse Thorn".
On August 20, online entertainment news site TV Line reports that Rob Cordry will return in Season Five as Alan Conner, Jeff's old law firm colleague. Also, Entertainment Weekly reported that former "Breaking Bad" star Jonathan Banks will star in eleven of the upcoming thirteen episodes of Season Five as Annie's Criminology professor. On September 4, TV Guide reported that "Justified" star Walton Goggins will appear in Season Five as a mysterious character called "Mr. Stone". On September 11, the online news site Hollywood Reporter announced that "The Daily Show's" John Oliver will be reprising his role of Professor Ian Duncan in Season Five. He is scheduled to appear in at least six episodes. On September 18, 2013, the AV Club and Pop Culture Brain entertainment news sites announced that actor LeVar Burton will appear in Season Five. Burton posted pictures of his time on set which can be seen here. On October 3, it was announced by TV Line that Nathan Fillion would be guest starring on Community as a janitor called "Bob Waite" .
The following writers are confirmed to work on season five:
Promotion
Edit
| | |
| --- | --- |
| On November 12, 2013 official promotional photos along with a teaser trailer for the upcoming season was released on line. | |
Promotional photos
Edit
Official trailers
Edit
On December 9, 2013 an official 60 second trailer was released by NBC online.
On December 10, NBC online posted a special behind the scenes look at Season Five
On December 12, 2013 a "Lord of the Rings" type trailer was released on NBC's youtube channel
On December 24, 2013 a "Mad Men" type trailer was released
Commercial announcing Community's return after the 2014 Winter Olympics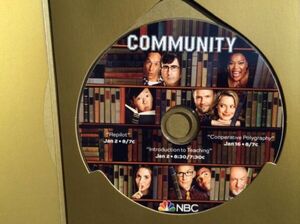 On December 10, 2013, a promotional DVD for Season Five was sent out to selected critics for early reviews. It contained three episodes: "
Repilot
", "
Introduction to Teaching
" and the previously unnamed episode #504 "
Cooperative Polygraphy
". The AV Club posted a picture of the DVD on their
twitter account
.
Season Five episodes
Edit
  
"Repilot"
January 2, 2014
Directed by: Tristram Shapeero - Written by: Dan Harmon and Chris McKenna

Jeff returns to Greendale to help his former law partner gather evidence for a lawsuit; thinking Jeff is planning to help save the school, Dean Pelton calls the study group back together.
  
"Introduction to Teaching"
January 2, 2014
Directed by: Jay Chandrasekhar - Written by: Andy Bobrow

Professor Hickey helps Jeff settle into his new job at Greendale; Abed convinces the study group to take a class focused on Nicolas Cage.
  
"Basic Intergluteal Numismatics"
January 9, 2014
Directed by: Tristram Shapeero - Written by: Erik Sommers

A campus investigation into a serial bandit leads to a surprising confession which Jeff finds suspicious.
  
"Cooperative Polygraphy"
January 16, 2014
Directed by: Tristram Shapeero - Written by: Alex Rubens

A man called Mr. Stone who has connections to Pierce administers a lie-detector test to the study group.
  
"Geothermal Escapism"
January 23, 2014
Directed by: Joe Russo - Written by: Tim Saccardo

Abed stages an epic, high stakes competition in honor of Troy who is preparing to leave Greendale.
  
"Analysis of Cork-Based Networking"
January 30, 2014
Directed by: Tristram Shapeero - Written by: Monica Padrick

As Annie prepares the cafeteria for the midterm dance, she and Professor Hickey must deal with the head custodian, the head of I.T. and the head of parking.
  
"Bondage and Beta Male Sexuality"
February 27, 2014
Directed by: Tristram Shapeero - Written by: Dan Guterman

Jeff helps Duncan romance Britta; Britta runs into some old anarchist friends and discovers they've moved on; Abed accidentally destroys some of Hickey's drawings; Chang has a supernatural experience.
  
"App Development and Condiments"
March 6, 2014
Directed by: Rob Schrab - Written by: Jordan Blum & Parker Deay

Dean Pelton lets two designers test their new social networking application at Greendale leading to the creation of a rank based society on campus.
  
"VCR Maintenance and Educational Publishing"
March 13, 2014
Directed by: Tristram Shapeero - Written by: Donald Diego

A hidden stash of textbooks is uncovered; Abed and Annie play a game to determine their new roommate.
  
"Advanced Advanced Dungeons & Dragons"
March 20, 2014
Directed by: Joe Russo - Written by: Matt Roller

The gang decides to help Professor Hickey reconnect with his son through a game of Dungeons & Dragons.
  
"G.I. Jeff"
April 3, 2014
Directed by: Rob Schrab - Written by: Dino Stamatopoulos

The study group gets 'animated' in the vein of the 1980s 'G.I. Joe' series.
  
"Basic Story"
April 10, 2014
Directed by: Jay Chandrasekhar - Written by: Carol Kolb

The Save Greendale Committee learns they did their job too well and now the school is up for sale.
  
"Basic Sandwich"
April 17, 2014
Directed by: Rob Schrab - Written by: Ryan Ridley

The Save Greendale Committee goes on a treasure hunt to stop Subway's takeover of the school.
References
Edit
Community content is available under
CC-BY-SA
unless otherwise noted.