Come on guys! I'm starting wonder if you deserve to call yourselves a community college sketch comedy troupe!


The Greendale Gooffaws are the resident sketch comedy group for the school. They put on humorous skits and performance throughout the Greendale campus. For a fee they are also available for private consultation in order to provide assistance in improving ones comedic sensibilities. The Gooffaws first appearance together was in the Season One episode "Romantic Expressionism". They are portrayed by Dan Eckman as Derrick, Meggie MacFadden as Linda Greene, D.C. Pierson as Mark Millot, and Dominic Dierkes as Buzz.
| | |
| --- | --- |
| In the study group's first year at Greendale, a number of extracurricular activities and clubs flourished. Along with the high profile Glee Club, there was also a popular campus sketch comedy group known as the Greendale Gooffaws. The quartet consisted of Derrick, Linda, Buzz and Mark. The foursome were hired by Pierce Hawthorne who was at the time in desperate need of comedic advice. After having attended a movie night at Abed's dorm room he found himself unable to be make decent jokes to mock a "Kickpuncher" movie he and his friends were watching. Pierce paid the sketch comedy troupe to help him come up with some better material. Together they watched "Kickpuncher II: Codenamed Punchkicker", the film that was chosen for the next movie night. | |

They were shown a scene which had the titular hero of the movie Kickpuncher saying the line "I guess it's a bad day for drug pushers and a good day ...to be Kickpuncher!". Pierce asked the troupe to come up with a joke to be inserted after the pause. Derrick suggested a "It's a good day...for a nutritious breakfast" but Pierce didn't find it funny. Linda offered "It's a good day...for a terrible movie!" which Pierce also quickly shot down. Buzz came up with "A good day for...hair products!" and Pierce chastised him for having suggested the same joke before. Pierce criticized the Gooffaws for their lame contributions and questioned whether they should even have the right to call themselves a college sketch comedy troupe.
Mark spoke up and asked Pierce if he wouldn't rather just spend the movie night hanging out with his friends instead of turning it into a competition. Pierce strongly resented his comment and angrily compared Mark to his third wife's therapist. Linda then came up with another suggestion and offered "A good day...for being gay!". Pierce finally laughed at one of their jokes and declared Linda was a genius. As he wrote it down, Linda whispered to Mark that Pierce likes gay jokes. Pierce overheard some of the exchange and asked her what she said. Linda lied and told him that the troupe writes "great jokes". Pierce, still feeling they still hadn't proven themselves yet, replied "Don't flatter yourselves" ("Romantic Expressionism").
In the study group's second year at Greendale, Gooffaw members Mark, Derrick and Linda were hired by Abed to help in setting up Jeff and Britta's impromptu marriage ceremony ("Anthropology 101").
The group
Edit
Derrick Comedy
Edit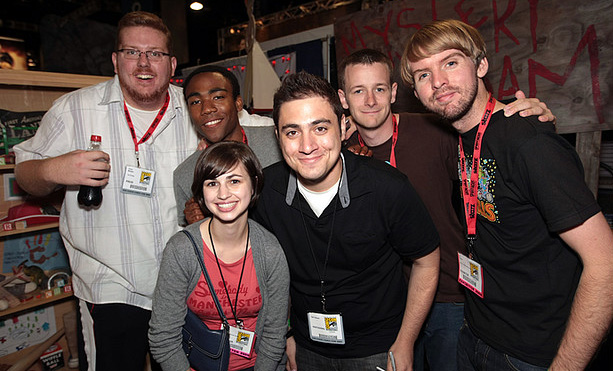 In real life, all four actors are founding members of
Derrick Comedy
, an actual college sketch comedy group that
Donald Glover
was also a part of when he attended
New York University
. They produced a number of short skits on YouTube including the infamous "
Bro Rape
" video which has over 9 million views. Under the name
Derrick Comedy
, the sketch group also produced and starred in the 2009 comedy "
Mystery Team
".
Community content is available under
CC-BY-SA
unless otherwise noted.