In the study group's first year at Greendale, Jeff finds himself in a dating drought and is annoyed when Pierce announced he had a girlfriend. He looks over a collection of phone numbers he's gathered from various women on his cell phone. Britta observes this and is amused she is listed as "Hot Blonde Spanish Class" but criticizes him for being shallow. Later at the STD Fair, Jeff meets up with Pierce and his girlfriend Doreen with his date Sabrina Shmuckle. Doreen tells Jeff that he could do better noting how shallow she is which reminds Jeff of Britta's earlier criticisms. A brief make out session with Sabrina inside his Lexus convinces him they were right and he ends things with her. Afterwards he changes how Britta's phone number is listed in his cellphone as The Fratellis song "Whistle for the Choir" is played.
Song and lyrics
Edit
Lyrics
Well it's a big big city and it's always the same
Can never be too pretty tell me your name
Is it out of line if I were simply bold to say "Would you be mine"?
Because I may be a beggar and you may be the queen
I know I may be on a downer I'm still ready to dream
Though it's 3 o'clock, the time is just the time it takes for you to talk.
So if you're lonely why'd you say you're not lonely
Oh you're a silly girl, I know I hurt it so
It's just like you to come
And go you know me no you don't even know me
You're so sweet to try, oh my, you caught my eye,
A girl like you's just irresistible
Well it's a big, big city and the lights are all out
But it's as much as I can do you know to figure you out
And I must confess, my heart's in broken pieces
And my head's a mess
And it's 4 in the morning, and I'm walking along
Beside the ghost of every drinker here who has ever done wrong
And it's you, woo hoo
That's got me going crazy for the things you do
So if you're crazy, I don't care, you amaze me
Oh you're a stupid girl, oh me, oh my, you talk
I die, you smile, you laugh, I cry
And only, a girl like you could be lonely
And it's a crying shame, if you would think the same
A boy like me's just irresistible
So if you're lonely, why'd you say you're not lonely
Oh you're a silly girl, I know I hurt it so
It's just like you to come and go
And know me, no you don't even know me
You're so sweet to try oh my, you caught my eye
A girl like you's just irresistible
The Fratellis
Edit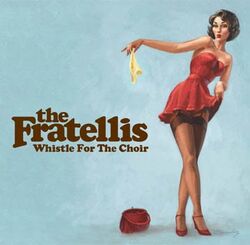 The Fratellis
are an indie rock band from Glasgow, Scotland. There are three band members who all changed their last name to match the band name similar to their musical idols
The Ramones
: Lead singer and guitarist Jon Fratelli, (born John Lawler), bass guitarist Barry Fratelli (born Barry Wallace), and drummer and backing vocalist Mince Fratelli (born Gordon McRory). The song "
Whistle for the Chior
" was their third single from thier debut album
"Costello Music"
. It was originally entitled
"Knickers In A Handbag"
but was changed due to pressure from the label. The album artwork references the old name by showing a girl handling a pair of underwear above a handbag. The song was released on November 27 in 2006 and reached #9 in the UK Singles Chart garnering The Fratellis their second UK Top 10 single.
Community content is available under
CC-BY-SA
unless otherwise noted.