And more importantly are they seriously marketing pregnancy tests to black women?

| | | |
| --- | --- | --- |
| | | "You know, Girl!" was a pregnancy test used by Shirley. It was marketed towards African-American women with the name of the product derived from a popular catchphrase "You go girl!". Shirley had hoped to keep her pregnancy concerns a secret but the test was unexpectedly discovered by her friends. The "You know, Girl!" test's first and only appearance was in the Season Two episode "Cooperative Calligraphy". |
| | |
| --- | --- |
| During the study group's second year at Greendale, Annie's pen went missing which led to a thorough search of the study room. When nothing turned up, everyone's bags were checked as well. When it was Shirley's turn to have her purse examined she refused. Pierce distracted Shirley by faking a blood clot and seized her bag. The contents were dumped out by Jeff and a "You know, Girl!" pregnancy test was among the many items which poured out. Britta found the test and realized it was the reason Shirley didn't want them to look in her bag. Jeff took a closer look at it and was amused that businesses were actually marketing pregnancy tests specifically to black women. | |
| | |
| --- | --- |
| Annie snatched the test from Jeff and admonished them for not handling the situation with more tact. Annie then handed the test to Shirley and asked if she had a new boyfriend. Shirley was then forced to admit she reconnected with her ex-husband Andre over Labor Day. She believed she might be pregnant but Abed assured her she couldn't be. He had been charting her menstrual cycle, along with the other female study group members, in a notebook. Abed pointed out she was ovulating on Halloween in October not in September. Troy then realized that Shirley could actually be pregnant. After the study group attended a Halloween party no one could remember, Ben Chang sent a voice mail from that night which had evidence that he had hooked up with Shirley ("Cooperative Calligraphy"). | |
Target marketing
Edit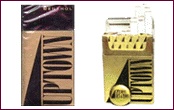 Target marketing is when a product is created and marketed for specific consumers based on various categories including age, religion, and ethnicity. The ethics of such marketing techniques has long been debated and resulted in a few controversies. One such occurrence was in 1989 when
R.J. Reynolds Tobacco Company
announced plans for
Uptown cigarettes
designed to appeal to African-Americans. Faced with protests led by the then US Secretary of Health & Human resources
Dr. Luis Sullivan
, the brand was ultimately cancelled and never released.
External links
Edit
Community content is available under
CC-BY-SA
unless otherwise noted.